PCI Qc, section régionale de PCI Canada, vous souhaite la bienvenue sur la Page d'accueil de la conférence Journée d'éducation sur la prévention et le contrôle des infections. Cette année, le 5 mai, nous reprenons notre place bien méritée sous le slogan "PCI : professionnalisme, compétence, influence."
Cette conférence réunira des congressistes de tous les secteurs des services de la santé (y compris la communauté, les cliniques privées, les soins aigus et de longue durée) de partout au Québec. Si vous fabriquez ou vendez des produits d'hygiène des mains et d'hygiène personnelle, des antiseptiques, des équipements de protection individuelle, des systèmes de purification, des logiciels ou d'autres produits et services de prévention et de contrôle des infections, vous ne pouvez pas manquer cette conférence. Nous attendons environ 80 congressistes à la conférence, dont beaucoup sont des décideurs en matière d'achat. Alors, participez à cette offre éducative et commerciale passionnante !

Vous pouvez commencer à installer votre kiosque dès 7 h. Les portes ouvriront à 8 heures. Le kiosque doit être enlevé avant 18 h.
Un Salon des exposants réservé aux Partenaires de l'industrie comprendra dix tables à louer (voir la section jaune du plan ci-dessous). Le prix d'une table dans le Salon est de seulement 600 $ pour les Partenaires-membres de PCI Qc et de 700 $ pour les non-membres.

Qu'est-ce qu'on vous offre ? Le prix de la table comprend ce qui suit :
Un espace d'environ 2,4 m (8') de large contenant une table (1,8 m x 0,6 m | 6' x 2') avec deux chaises dans le Salon des exposants pour installer votre kiosque d'information sur les produits ou les services. Il y aura trois moments dédiés pour visiter le Salon. Un concours sera organisé pour les congressistes afin d'encourager la participation.

Accès aux séances d'éducation faisant partie du programme de la conférence.

Repas : petit-déjeuner, dîner et café pour un maximum de deux représentants.

Stationnement, accès wi-fi et prise électrique.

Le logo de votre entreprise apparaîtra sur les documents et sur le web.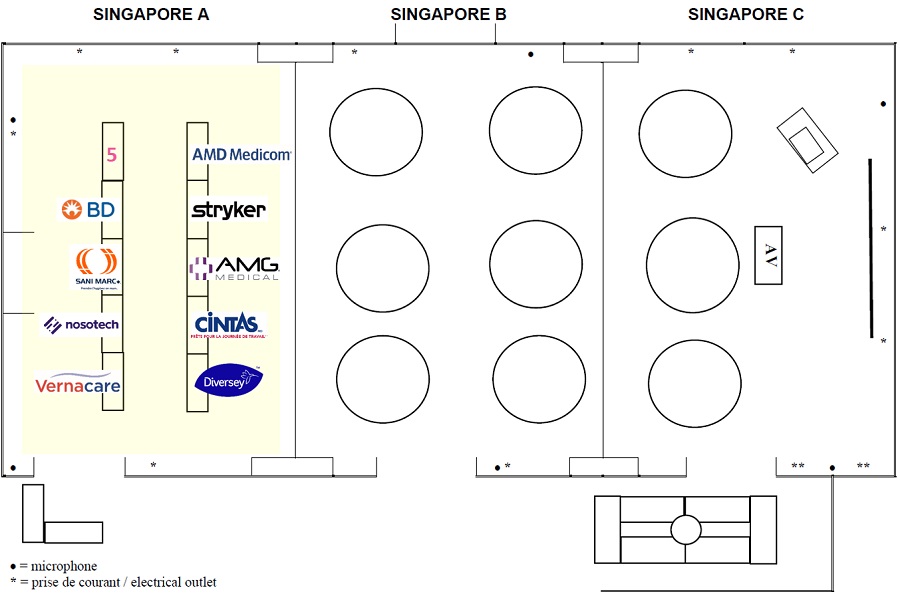 En espérant pouvoir vous compter parmi nous le 5 mai, on vous remercie de votre considération et on demeure disponible à répondre à vos questions. Communiquez avec PCI Qc :
Inscription - Partenaire de l'Industrie
__________________________________________________________________________________________
PCI Qc, regional chapter of IPAC Canada, welcomes you on the Welcome Page for our signature all-day conference: Infection Prevention and Control Education Day. This year, on May 5th, we are back in our rightful place, reunited under the slogan "IPC: Influence, Professionalism, Competence".


This conference will bring together delegates from all areas of healthcare (including community, private clinics, acute and long-term care) from across Quebec. If you manufacture or sell hand and personal hygiene products, antiseptics, personal protective equipment, purification systems, software or other infection prevention and control products and services, you cannot miss this conference. We are expecting approximately 80 attendees at the conference, many of whom are purchasing decision-makers, so be part of this exciting educational and commercial offering!

You may begin setting up as of 7 a.m. Doors will open at 8 a.m. The conference will run from 8:30 a.m. to 4:00 p.m. The booth must be dismantled before 6 p.m.
There will be a dedicated Exhibition Hall for Industry Partners with ten rental tables (see yellow zone on the floor plan). The fee for a table in the Hall is only $600 for Industry Partners who are members of PCI Qc and $700 for non-members.
What's In It For You? The fee for the table includes the following:
A space about 2.4 m (8 ft) wide containing a table (1.8 by 0.6 m | 6 ft by 2 ft) with two chairs in the Exhibition Hall

to set up your product or service information booth.

Access to all educational sessions that are part of the conference program.

Meals: b

reakfast, lunch, and coffee for up to two representatives.

Parking, wi-fi access, and electrical outlet.

Your company logo featured on printed materials and on the web.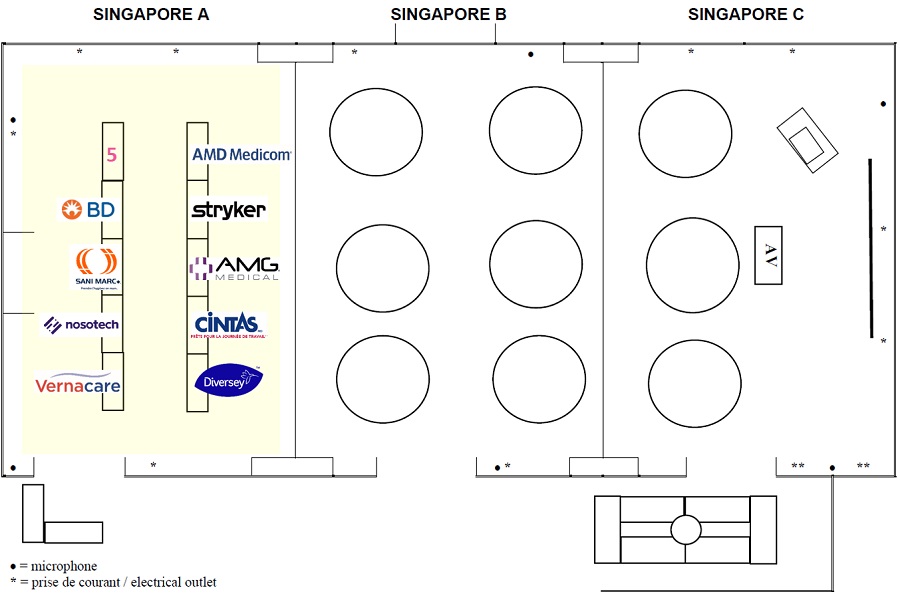 Thank you! We look forward to seeing you on May 5th and we remain available to answer your questions. Contact PCI Qc: